HELP PROTECT OUR FISHERIES
B.A.S.S. Conservation needs your help, and all you have to do is vote!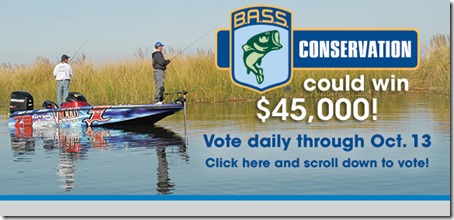 Nationwide's "Preserve Your Passion" promotion lets people choose the organization that they feel is most important to them, and the organization with the largest percentage of votes receives $45,000. It is SIMPLE and FREE! Be sure to tell your friends to vote as well!
Click here to cast your vote once a day through Oct. 13.
Your participation will help B.A.S.S. Conservation in their continued efforts to be an effective advocate for good fisheries management, aquatic habitat improvements, water quality protection and responsible fish care in tournament competitions. There are many more opportunities for B.A.S.S. Conservation to help ensure that people will be able to continue to enjoy nature's resources, but it is essential that we have the funding to help these projects meet completion.
Two things are critical…
1) When voting, please understand that when you go to the voting page, you must:
First click on the B.A.S.S. Conservation logo (It will change from black & white to color) Otherwise you may be voting for another organization without realizing it.
Next fill in the secret word displayed.
Finally click on "Submit Your Vote."
2) We urge you to vote EVERY DAY until October 13th.
Comments
comments