NC High School Teams Advance To Day #3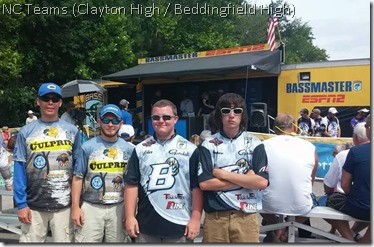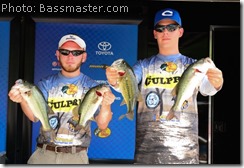 With two days of B.A.S.S. High School National Championship competition in the books, the field of 61 has now been cut to 30. Chris Chavez and Ethan Howard, representing Clayton High, netted a decent showing on day #1 of competition with a five fish limit weighing 10lbs – 12oz leaving the duo in 20th place. However, the Beddingfield team of Tyler Dunn and Matthew Shrewsbury were not so fortunate on day #1 and were forced to cross the stage at days end with only one keeper, landing the tandem in 50th spot.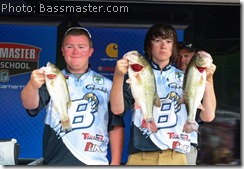 On day #2 Chavez and Howard created a bit of drama by only bringing three fish to the scales at 6lbs – 10oz bringing their two-day total to 17lbs – 6oz and landing the pair in 23rd position overall. Dunn and Shrewsbury showed their "Never Give Up" attitude and hauled in an impressive three-fish / 12lb – 5oz catch that leaped the tandem slightly above the top 30 cut-off to end the day in the 27th position.
The 30 teams that made the cut will now converge onto Carroll County Lake where the event will finish out the final two days of competition.
Additional event information, stories, and photos can be found at the bassmaster.com site or by clicking here to be re-directed to the page.
Comments
comments