Shrewsbury & Dunn Take Control Of The B.A.S.S. High School National Championship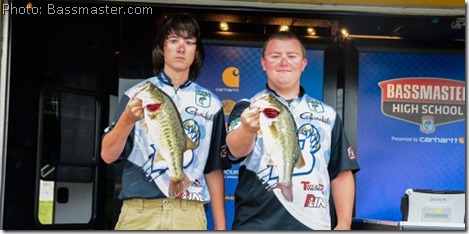 Proving that anything is possible, Matthew Shrewsbury and Tyler Dunn have climbed their way back into contention for hoisting the B.A.S.S. National Championship trophy high above their heads by days end on Saturday. Shrewsbury and Dunn have defied the odds and have moved all the way to the top of the standings with their day #3 performance. With only one day of competition to go, the duo will attempt to fend off any of the remaining contenders. Only the top 10 teams will compete on day #4.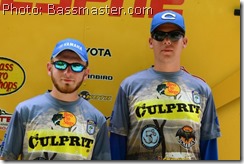 Falling a little short on day #3 was the second North Carolina team, consisting of Chris Chavez and Ethan Howard. Holding strong after the first two days of competition, the tandem finished day #3 in the 22nd position. Although physically out of the competition, Chavez and Howard continue their adventure through the eyes of their fellow North Carolinians, Shrewsburry and Dunn, by offering lures and moral support for the final day of the event. The four high schoolers have become close over the course of the week and their team spirit is evident with their actions among each other.
Bassmaster.com will offer live coverage once again during the final weigh-in and can be viewed by clicking here.
To read the full story provided by Bassmaster.com regarding Shrewsburry and Dunn click here.
Comments
comments