Andrews and Brown Claim NC Bassmaster High School State Tournament Victory – Canaday and Davis Take Junior Title
Falls Lake – May 20th & 21st 2017
Forty-Five teams attended the 2017 NC Bassmaster Junior & High School state tournament over the weekend on Falls Lake. Teams launched and returned from the Upper Barton ramp access. The teams were faced with hot and sunny conditions on day one while cool and cloudy conditions greeted the anglers on day two. Nonetheless, the young anglers were able to find lures and presentations that enabled them to entice bites throughout the changing weather conditions.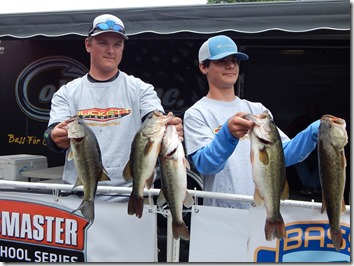 Cameron Andrews and Luke Brown took the lead after day one with their catch of 16.38 lbs and backed that up with a day two catch of 13.73 lbs, giving the duo a two-day combined weight of 30.11 lbs to secure the win.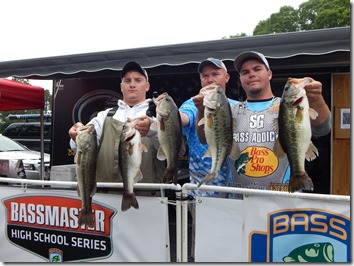 Tyler Goss and Clayton Shaw netted 7.69 lbs on day one, but bounced back on day two with an impressive catch of 16.85 lbs giving the tandem a total weight of 24.54 lbs, good enough for the runner-up spot.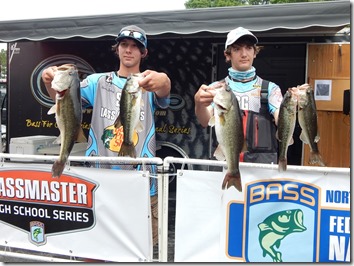 Noah Howard and Hunter Barbrey brought a total weight of 11.71 lbs across the scales on day one, followed by 12.80 lbs on day two to give the pair of anglers a final weight of 24.51 lbs, granting the duo a third-place finish.
Logan Anderson and Jacob Smith filled the fourth spot with their day one catch of 11.27 lbs along with their day two catch of 13.14 lbs, totaling 24.41 lbs for the event.
Weighing in 13.17 lbs on day one and 10.17 lbs on day two, the team of CJ Teas and Malakai McKinney rounded out the top five positions with their total catch of 23.34 lbs.
Junior Division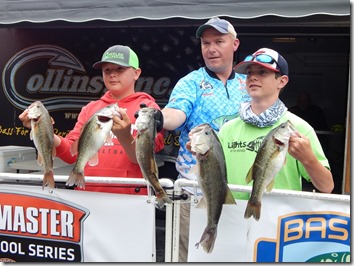 Winning the Junior Division (8th Place In The Overall Standings) was the tandem of Nathan Canaday and Kyle Davis with an impressive weight of 20.80 lbs after both days of competition.
Filling the second spot was the team of Ashton Rasberry and Bladen Rasberry with their two-day catch of 6.73 lbs.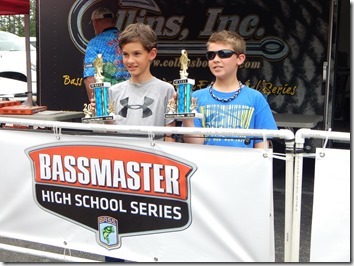 Caleb Speight and Tyler Baker filled the third spot with their catch of 6.50 lbs.
Preston Whicker and Colby Patterson settled for the fourth spot with 5.84 lbs, while the fifth spot belonged to Ben Bauer and Preston Venable with their catch of 5.74 lbs.
Lunker Awards
Max Teas and Cason Causey landed the single largest fish of day one at 6.02 lbs while Tucker Campbell and Paul Young did so on day two with a nice 5.92 lb Falls Lake bass. Both teams earned a little fishing fund cash of $20 per angler as a reward for their lunker catches.
National Championship Berths
Earning the opportunity to represent North Carolina at the 2017 Bassmaster Junior and High School National Championships, to be held this summer on Kentucky Lake and Carrol County Reservoir in Western Tennessee, were the Junior teams of Nathan Canaday / Kyle Davis and Ashton Rasberry / Bladen Rasberry, along with the High School teams of Tyler Goss / Clayton Shaw and Noah Howard / Hunter Barbrey.
Additional High School teams advancing to the National Championship event (Pending final approval from B.A.S.S.), based on points accumulated among Eastern & Western North Carolina Bassmaster High School Series events are Logan Jennings / Alden Patterson (Eastern Series Champions) and Cameron Andrews / Luke Brown (Western Series Champions).  Each of these two teams compiled the most points in a series of four events in their geographical area of the state to gain these extra championship berths.
Food & Door Prizes
A special thanks goes out to Scott Andrews and Router Bit Service Company for their generosity in providing a pair of Duckett Fishing Rods that were awarded as door prizes during a random drawing that took place on the final day of the event.
An additional appreciation goes out to Collins Inc. for providing food and beverage items for all anglers and boat captains during the afternoon weigh-in on day two. Thanks to Beth and David Long for assisting with the delivery and serving of these food items.
Thank-you Boat Captains!!
It takes dedicated individuals to commit to time on the water without the opportunity to cast a line. It can sometimes be labeled as a tease to an adult angler – To be so close to prime fishing locations, yet never get a chance to turn a reel handle. However, the pleasure that can be obtained by being a boat captain in an event such as this can live as a memory forever.
Boat captains are mentors while on the water. They are the individuals that teach valuable lessons and skills to guide these young anglers in their outdoor adventures and quite possibly, some of their life choices along the way. Although the focus of events such as this are on the youth anglers that are competing, it is the boat captains that help make it possible. Thank-you to all the boat captains for the role you play in these young angler's lives. You are certainly appreciated by many.
Complete Results (All Teams)
Random Event Photos (Click Each For Larger View):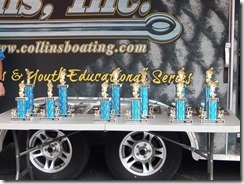 Comments
comments