Mark Robertson wins NC BASS Nation Wild Card Tournament on Kerr Lake
Six anglers advance to the BASS Nation Regional Championship on Lake Douglas.
October 23rd-24th – Kerr Lake
Story By: Chuck Murray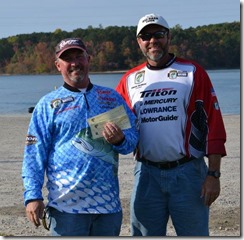 Mark Robertson of the Sandy Creek Bass Masters led wire to wire to defend his title of Kerr Lake Champion on October 23 and 24 2015. Mark weighed 13.56 on Day 1 and 12.86 on Day 2 for a total weight of 26.42 pounds narrowly holding off Cory Leonard for the win. Mark won this same event in October 2013 on Kerr Lake giving him the undisputed title of Kerr Lake Champion.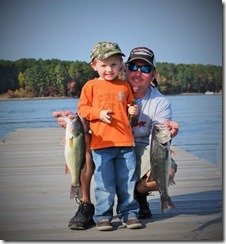 Cory Leonard of the Sandy Creek Bass Masters had two great days as well weighing 13.18 and 12.95 to take second place. Cory was the NC Champion on Lake Douglas at the BASS Regional a few years back. He will be trying to defend his title in May 2016 on Lake Douglas in Tenn. and advance one again to the BASS National Championship vying for a berth in the BASS Master Classic. He will have to beat the top 10 boaters advancing to the tourney.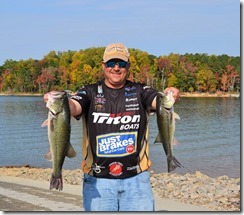 Rob Digh of the Out Door Rush Bass Masters took third place with a total weight 24.19. Rob caught 14.09 on Day 2 to secure his spot and advance to the 2016 State team. In 2014, Rob won the entire BASS Nation Regional event held on Lake Eufaula in Alabama. He has fished in two National Championships still vying for a spot at the BASS Master Classic.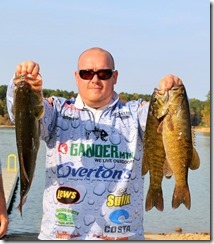 Under a new format, the wild card event also qualified the top three non-boaters from the tournament. Jeffery Davis Jr. with the Pitt County Bass Masters won the non-boater side by catching the largest bag of the tournament on Day 2. Davis caught 16.27 lbs for a total weight of 17.74 to claim non-boater champion. This is Jeffery's first time qualifying for the state team.
Claiming the other two non-boater spots up for grabs were Five County's Tim Gardner (15.23) and Indian Springs Bassmaster Jason Tew (14.63). This will be their first time as well advancing to the state team.
Big Fish Honors: Boaters: Bowman Gray 5.05 Day 1 Rob Digh 5.15 Day 2
Non-Boaters: Ethan Howard 3.84 Day 1 Jeffery Davis 5.95 Day 2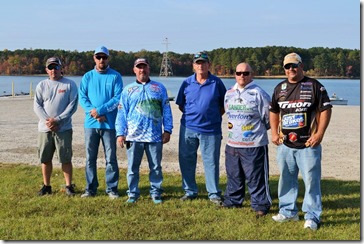 The State Team is now complete:
Boaters are: Randy Groves, Chuck Murray, JT Palmore, Scott Griffin, Patrick King, Mark Swink, Chris Carnes, Mark Robertson, Cory Leonard and Rob Digh.
Non-Boaters are: Dale Lucky, Stacy Richards, Jeff Hager, Bob Carpenter, Richard Cooper, Brian Adams, Jeff Hodges, Jeffery Davis Jr. , Tim Gardner and Jason Tew. These Anglers will be trying to make it to the National Championship.
Random Event Photos:
Comments
comments