Western Region NC B.A.S.S. Nation State Qualifier
May 15 and 16, 2015
Story By: Chuck Murray
Black Bear Landing- Lake James – North Carolina hosted the Western Region NC BASS Nation state qualifier. It is the first of two state championship tournaments to select the next Southern Divisional Team in their quest for a berth in the prestigious BASSMaster Classic.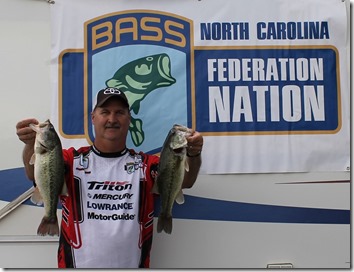 First place overall individual winner from the Look Out Shoals, Patrick King, stayed strong finishing with a 2 day total of 17.90 pounds. The balance of the Western Region qualifiers in second to seventh places were BASS Casters Mark Swink (17.81), Team Orellanna Chris Carnes (17.13), Confederate Bass Master Dale Lucky (16.13), Casual Caster Stacy Richards (15.99), Alexis Bass Master Jeff Hager (15.77), and Cherryville Bass Masters Bob Carpenter (14.65). Jaw Breaker's Jody Wright will be the first alternate with (14.59)
Team Orellanna won the Club Championship title with 58.30 pounds, Confederate Bassmasters were 2nd place with 47.48, and Third place was the Jaw Breakers at 46.67.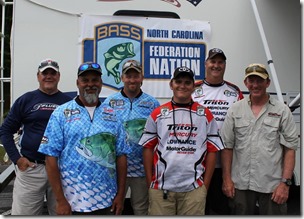 The Top seven above will represent the NC BASS Nation at the 2016 BASS Regional hosted by B.A.S.S. with all vying for a shot at the BASS MASTER CLASSIC!
Random Event Photos:
Comments
comments